Please click here to join Sam's newsletter and mailing list!
NEW RELEASE NOW AVAILABLE FOR PRE-ORDER
"SHOUT & SHINE" - FINK, MARXER, GLEAVES
(to be released in June, 2018)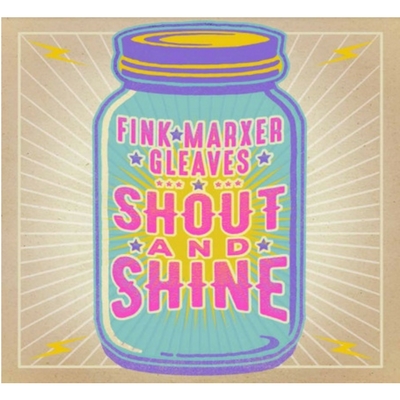 PRE-ORDER CDs and DIGITAL DOWNLOADS via the PayPal link below.
Shipping is included in the price of CDs.
ABOUT FINK, MARXER, GLEAVES and "SHOUT & SHINE"
This new recording by Cathy Fink, Marcy Marxer and Sam Gleaves is built on a musical friendship already five years old.
The trio finds common ground in the music they love from Appalachia as we
ll as contemporary songs that keep alive the tradition of singing for social justice. Fink, Marxer & Gleaves combine fiddle, banjo, mandolin, ukulele and guitar to accompany their honed trio harmonies or driving square dance tunes.
Mark Schatz brings his excellent bass playing to the recording.
The record draws on the trio's diverse influences, featuring original songs by Fink and Gleaves, traditional gems, old time country songs, and songs written by celebrated songwriters Alice Gerrard, Tom Paxton, and Jim Beloff. The record honors folk music matriarchs Elizabeth Cotten, Jean Ritchie and Maybelle Carter with new interpretations of songs from their repertoires.
Tracks:
1. Shout And Shine (Cathy Fink)
2. Hot Pink House Trailer (Sam Gleaves)
3. If The Poor Don't Matter (Tom Paxton)
4. Oh, Babe It Ain't No Lie (Elizabeth Cotten)
5. Moonshine (Sam Gleaves)
6. If I Were A Blackbird (Traditional, from the singing of Jean Ritchie)
7. Sweet South Anna River (Alice Gerrard)
8. Welcome Table (Lyrics traditional, melody by Sam Gleaves)
9. Granny/Shoes and Stockings (Traditional, from the playing of Henry Reed)
10. Buddies in the Saddle (Maybelle Carter)
11. Brother, You Ought To Been There
(Traditional, from the singing of Rev. Nathaniel Mitchell, Sister Fleeta Mitchell, Brady "Doc" Barnes and Lucy Barnes)
12. I'm Happy Every Day I Live (Rose Maddox and Alta Troxel)
13. Closer To the Light (Jim Beloff)
AIN'T WE BROTHERS:
Sam's debut record, produced by Cathy Fink.
Featured by NPR, No Depression, Sing Out! and others.
Featuring "Just Like Jordan," Silver Medal winner,
Mid-Atlantic Songwriting Contest, 2015.
"A stunning first album." - Peggy Seeger