BALLADS AND BANJO music from the Blue Ridge mountains . . .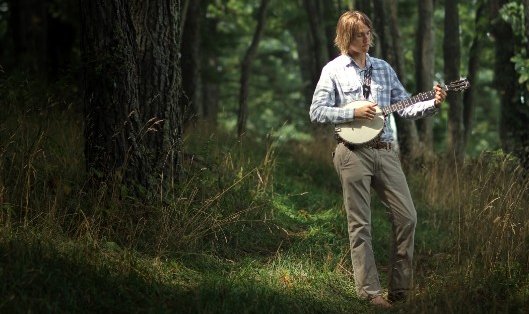 GLEAVES' NEW ALBUM, A LITTLE WHILE IN THE WILDERNESS ON SALE NOW!

SAM GLEAVES' NEW ALBUM, A LITTLE WHILE IN THE WILDERNESS . . .
A Little While in the Wilderness, Gleaves' sophomore release, celebrates the arrival of a new voice for the mountains, blending tradition and innovation to render a startling beauty. Gleaves looks back on his Blue Ridge mountain heritage with cuts like "Don't Let Your Deal Go Down" and "Deep Ellum Blues," learned from his long time teacher, mountain music master Jim Lloyd. Lloyd also lends his talents as a musician and producer on the album, playing mandolin, guitar and bass and working his masterful arrangements into each song. With this album, Gleaves debuts as a songwriter, putting forward his thoughtful and poignant original songs "Working Shoes," a haunting coal miner's tale, and "Just Like Jordan," a sweet, nearly religious love song with a classic country melody. Gleaves also offers up thoughtful and intense ballads on the album, nodding at his friend and mentor Sheila Kay Adams with the title track, "Camp A Little While in the Wilderness" and mourning one of the mountains' strongest voices, Hazel Dickens with the moving, "Pretty Bird." Gleaves doesn't hold back as a picker, either, bringing in the rollicking banjo tune "Polly Put The Kettle On" and "Big Sweet Taters in the Sandy Land," a fiddle tune that moves the feet. Gleaves harmonizes sweetly with his friend, young Blue Ridge folksinger Leigh Beamer on the heartbreaking, "Your Long Journey," and duets with producer and teacher Jim Lloyd on the gospel standard, "Walkin' in Jerusalem (Just Like John)." Throughout the record, Gleaves shows himself as a young man blissfully lost in the wilderness of mountain music, a holy place to him, as ballad singer Dellie Norton said, "These woods are my church." A Little While in the Wilderness hearkens back to Appalachia's early days and shows hope for its future, where its sweet and mournful song lives on.
Praise for Sam Gleaves and
A LITTLE WHILE IN THE WILDERNESS . . .
"What I first noticed about Sam was the gift, but that's obvious to anybody. What struck me was just underneath that talent, an honest respect and desire to honor this tradition. Sam is all we hope to see and hear in these younger generations."
-Sheila Kay Adams, seventh generation ballad singer
"Sam Gleaves is an amazing new talent. To think that someone so young can understand the ancient tones of this music with such a deep and profound sense of honor makes me have a whole new kind of hope for the future. When Sam sings, we hear the generations before him: the joys, the sorrows, the strength and defeats. When Sam plays, we hear the land that has informed this music: the jagged, dark mountains, the meandering creeks, the even-rowed fields. A LITTLE WHILE IN THE WILDERNESS announces a new artist with an old soul, and a soul that has a keen understanding of what makes this music so powerful."
-Silas House, author, teacher, fine singer