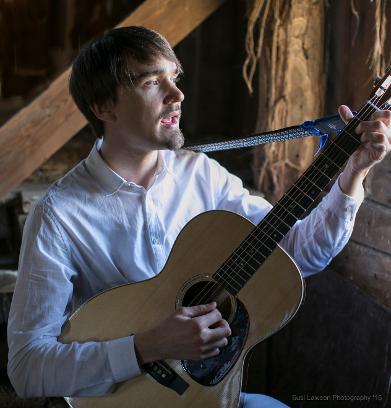 SAM GLEAVES
Appalachian singer - multi-instrumentalist - songwriter
Sam Gleaves was born and raised in Wytheville, Virginia where he began playing music as a teenager with the help of local mentor Jim Lloyd, a multi-instrumentalist, storyteller and barber. Lloyd introduced Gleaves to nationally recognized ballad singer Sheila Kay Adams who shared with Gleaves the old "love songs" of her community tradition. Rooted in Appalachian sounds, Gleaves' songwriting sings of contemporary rural life and social issues. While earning a degree in Folklore at Berea College, Gleaves performed with the Berea College Bluegrass Ensemble directed by Al White. In 2015, Gleaves collaborated with Grammy-winning producer Cathy Fink and released a debut record of original songs, titled "Ain't We Brothers," which has been featured by The Guardian, National Public Radio, and No Depression. Gleaves tours extensively in the U.S. and he has performed in Ireland, England, Canada, Japan and Italy. In 2017, Gleaves released a duo recording with Tyler Hughes which received glowing reviews from Fatea, Rock n Reel, fROOTS, and others. In 2018, Gleaves collaborated with Cathy Fink and Marcy Marxer on a trio recording, "Shout & Shine," which Justin Hiltner of the Bluegrass Situation called, "viscerally powerful . . . a perfect illustration of cross-generational mind melds and musical melds." In 2019, Deborah Payne and Gleaves released their first recording as a duo, titled "Welcome As the Flowers in May." A passionate teaching artist, Gleaves has shared Appalachian traditions at numerous music camps, colleges, universities, and public schools. He currently serves as a traditional music instructor and director of the Bluegrass Ensemble at Berea College.


Left: The Sharkey Farmers, Sam and Al, Alice and Ruth on Red Barn Radio, December 2014. Photo by Rachel White. Center: Photo by Mary Sue Scott.
Right: Cathy Fink, Sam and Janis Ian at the Rec Room Studio, Nashville, Tennessee.
SELECTED PERFORMANCES:
National Storytelling Festival, Jonesborough, TN, 2019.
Mountain Stage (with Cathy Fink and Marcy Marxer), 2019.
Woodsongs Old Time Radio Hour (guest of Tom Paxton), Lexington, Kentucky, May 2015.
Carter Family Fold (with the McLain Family Band), Hiltons, Virginia, 2013, 2014.
Galway International Arts Festival (with Bertha Hope and Mary McPartlan), Ireland, 2014.
Thomas Wolfe House (with Sheila Kay Adams), Asheville, North Carolina, 2011
Keynote Performance (with Silas House), Appalachian Studies Association, Marshall University, 2014.
Crooked Road Youth Music Series (w/ Leigh Beamer & Tyler Hughes), Heartwood, Abingdon, VA, 2014.
Red Barn Radio, Lexington, Kentucky, 2012, 2013, 2014, 2015 (including programs broadcast on KET).
-With the Berea College Bluegrass Ensemble-
Paul Rusch Festival and Yatsugatake County Fair at KEEP, Hokuto City, Japan, 2014.
Tennessee Fall Homecoming, Museum of Appalachia, Norris, Tennessee, 2010, 2011, 2013.
Helen Mills Theater, New York, New York, 2011.
Berea College Celebration of Traditional Music, Berea, Kentucky, 2010 – 2014.

TEACHING EXPERIENCE:
Instructor, Common Ground on the Hill, McDaniel College, Westminster, MD, 2012, 2014, 2015.
Teaching Assistant, Swannanoa Gathering, Warren Wilson College, 2012.
Teaching Assistant, Cowan Creek Mountain Music School, Letcher County, Kentucky, 2014, 2015.
Guest Instructor, Now Is The Cool of The Day with Michael and Carrie Kline, Elkins, WV, 2012, 2013.
Guest Musician, Irish Music and Diaspora class, National University of Ireland Galway, 2014, 2015.

HONORS:
Red Foley Award, Berea College, 2014.
First Place, Folk Song Competition, Galax Old Fiddlers Convention, 2013.

ON OTHER RECORDINGS:
"Johnny Is My Darling" (2014) composed by Susan Stenger and Sam Gleaves
Score for L'EXPOSITION D'UN FILM by Mathieu Copeland.
"Greenwood Laddie," Shirley Inspired (2014) compilation tribute to British folksinger Shirley Collins.
"Law in the West Virginia Hills," Blair Pathways (2012) compilation, music of the West Virginia Mine Wars.