Traditional music workshops and educational performances
Sam has taught individual music lessons for over ten years. Numerous music and arts camps, public schools, colleges and universities have included Sam's hands-on workshops and educational performances in their programs.
For more information, please contact Sam at samuelgleaves@gmail.com
Photo (right): Sam and Saro Lynch-Thomason teaching at It's Good To Be Young in the Mountains, Harlan, Kentucky.
Photo by Lou Murrey.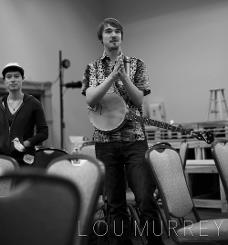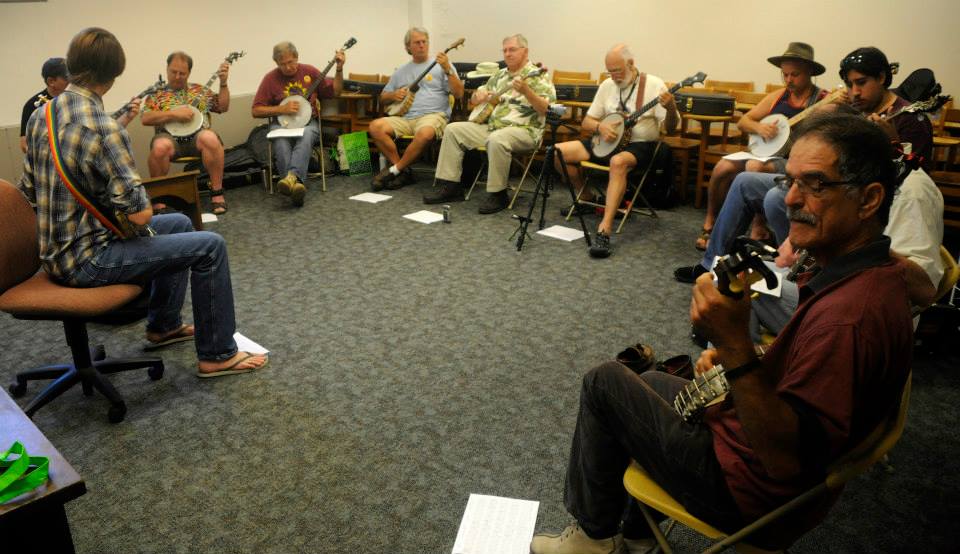 Common Ground on the Hill Tradition Week at McDaniel College. Photo by Ryan Koons.
Workshop and Lesson Descriptions

Appalachian Song (suitable for singers of all experience levels)
Lift your voice and learn to sing old-time songs from the mountains, including ballads, hymns and light-hearted songs. Experience a variety of traditional Appalachian singing styles, practice singing without accompaniment, and learn how accompaniment shapes a song. Singing will be taught "by ear," in a method suitable for beginners and experienced singers. By singing and learning the stories behind the sources of the songs, students will be exposed to the diverse cultures of Appalachia.
Harmony Singing (suitable for singers of all experience levels)
Hone your harmony singing skills and study the varied duet singing styles from the American South. Add old time country standards, sacred songs and traditional ballads to your repertoire while building rich harmonies. Singers in this class will learn to create unique harmony lines, match phrasing with singing partners, and apply ornamentation used in Southern singing styles. A basic music theory overview of harmony singing will be provided but harmony singing will be taught "by ear" in a method suitable for singers of all experience levels.
String Band (easily adapted for students of all experience levels and various instruments)
Learn to play Appalachian music as an ensemble. As the class band coalesces, we work together to focus on a few traditional dance tunes and participatory songs and arrange them for the group. This workshop includes advice on performing and musical collaboration, instruction on various instruments, practice of harmony singing and fun throughout!
Clawhammer Banjo (beginning, intermediate or advanced levels)
Learn the frailing stroke, explore drop-thumb styles, and experiment with different banjo tunings. Participants will learn how to accompany traditional dance tunes and songs and pick out melodies and solos. The history of the banjo will be incorporated throughout the workshop, from its African origins to its established identity as the instrument of Appalachia.
Songwriting: Singing Our Stories (suitable for songwriters of all experience levels)
Kentucky songwriter Harlan Howard said folk music is "three chords and the truth." Transform stories from your lived experience, your worldview and your truth into songs. Students will closely review style and form in traditional and contemporary songs, then generate their own songs. Collaborative writing, songwriting as a daily practice, navigating the publishing process and applications for finished songs will be discussed.
Guitar (beginning, intermediate or advanced levels)
Take part in step-by-step explorations of American folk and country guitar styles. This workshop can focus on accompaniment for traditional dance tunes, Mother Maybelle Carter's famous "scratch," alternating bass fingerpicking, basic melodic flatpicking or a combination of these styles. Discussions include use of drop-D tuning, crafting accompaniments for your voice, basic music theory and technique, and capo wisdom.
Fiddle (beginning or intermediate levels)
Appalachian fiddle tunes are incredibly diverse, running the gamut of reels, hoedowns, waltzes, polkas, slow airs, rags and lyric songs. This workshop focuses in depth on a small number of fiddle tunes, paying particular attention to bowing styles, alternate tunings and playing the tunes in an ensemble. Playing for dancing and accompanying the voice with the fiddle will be discussed.
Appalachian Dulcimer (beginning, intermediate or advanced levels)
The versatile Appalachian dulcimer (also called a lap dulcimer) can be used to accompany the voice, play melodic solos and accompany dancing. Learn strumming and fingerpicking styles, chords and craft accompaniments for songs using countermelodies. History of the dulcimer will be told through stories of noted Appalachian players such as Jean Ritchie, I.D. Stamper and Betty Smith. Participants will tune the dulcimer to play in various keys and modes.
Autoharp (beginning or intermediate levels)
As one of the most approachable instruments in folk music, the autoharp can do much more than accompany sweet and sentimental songs. Participants will explore basic strumming, accompaniment for dance tunes, rhythmic variations for strumming and the melodic lead style pioneered by Southwest Virginia musicians Maybelle Carter, Ernest "Pop" Stoneman and Kilby Snow.
Educational performances (with live music, storytelling and media)

The following concepts can be adapted for various educational levels and settings. Program length can be adjusted for a single session or multiple day residency.
Handed Down: Experiencing Our Traditions
This performance explores the intergenerational exchange of the folk process, honoring
mentors and source musicians from the hills and hollers of Central Appalachia. Hear the
stories of these musicians, both internationally-known masters and those who never performed
outside their region, and their home communities. Incorporates oral history, song and
photographs collected by Sam Gleaves and from archival sources.
Music of Struggle: The Sound of Environmental and Social Justice Movements in Appalachia
Throughout the region's history, Appalachian people have responded to inequality and violent
change through song. This performance presents some of Appalachia's best known protest
songs along with the stories that place the songs in their historical and social context. Songs in
the performance include Florence Reece's "Which Side Are You On" from the struggle to
organize unions for coal miners, "We Shall Overcome" from the African American Civil Rights
Movement of the 1960s, and more songs from environmental and social movements.
Diversity in Appalachian Music Traditions
Appalachian music is a melting pot, and Appalachian people are often misrepresented by
stereotypes which portray their culture as all-white, male-dominated, straight and resistant to
intercultural exchange. Explore the truth of Appalachian music from the first exchanges
between Native Americans, Africans and Europeans to the contemporary blossoming of
Hispanic and Latino cultures in the region. In addition to racial and ethnic diversity, Women
have played a particularly strong role in the continuation and redefinition of the music, as have
people of the LGBTQ+ communities. The series of songs and stories in this performance
illuminate the rich, varied tapestry of mountain people and their music.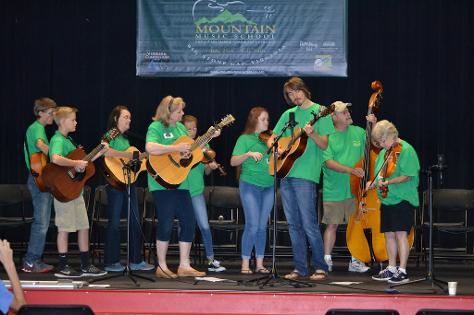 Above: Mountain Music School, Mountain Empire Community College, Big Stone Gap, Virginia, 2016. Photo by Regina Kinsler.
Teaching Experience:
Guest instructor, Appalachian music and literature classes at Berea College, 2014 - 2017
Co-instructor, Harmony Singing Workshop, Louisville Folk School, 2017
Co-instructor, Harmony Singing Workshop at the Woody Guthrie Center, 2017
Instructor, Augusta Heritage Center Vocal Week, Davis and Elkins College, 2017
Instructor, Common Ground on the Hill, McDaniel College, 2012, 2014, 2015
Teaching Assistant, Swannanoa Gathering, Warren Wilson College, 2012
Teaching Assistant, Cowan Creek Mountain Music School, 2014, 2015
Guest Instructor, Now Is The Cool of the Day Song Workshop with Michael & Carrie Kline, 2012, 2013
Guest Musician, Irish Music & Diaspora class, National University of Ireland Galway, 2014, 2015
Instructor, Chestnut Creek School of the Arts, 2016
Instructor, Mountain Music School, Mountain Empire Community College, 2015, 2016, 2017
Instructor, Berea Arts Council Art Camp, 2016, 2017
Keynote Speaker, Wythe Arts Council Chautauqua Creative Writing Festival, 2016
Instructor, Berea Festival of Learnshops, 2016
Performer, Southern Foodways Alliance Symposium, University of Mississippi, 2016
Performer, Radford University Appalachian Awareness Day, 2016
Teaching Artist, Arts Behind Bars Program (funded by Kentucky Foundation for Women), 2016